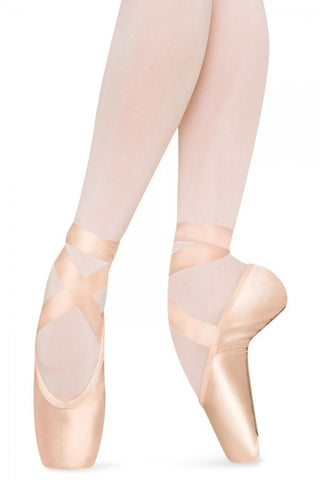 Bloch Synergy Pointe Shoes
The Syngergy provides the feeling of being elevated 'en pointe' away from the floor and up, out of the shoe.
Features
The Synergy is designed to give the dancer the feeling of being elevated up and away from the floor.
This shoe holds the foot high and centred giving the dancer stability 'en pointe' and the aesthetic appearance of an upside down letter 'L' when 'en pointe'.
The high and wide platform and the unique stitching around the box and wings of the Synergy give extra support to the dancer when 'en pointe'.
The foot is supported by the many contact areas inside the box so the metatarsal is held firm and the toes straight.
This shoe is best suited to dancers with highly flexible insteps and ankles and the open design of the U shaped vamp enhances the line of the leg and foot.
Notes
Ribbons and elastic sold separately

Final sale on sale items
---
We Also Recommend